DALB HOLIDAYS! SARBATORI DALBE cu DALB!
The time to celebrate is here! Wear your holiday spirit and discover the magic of December with DALB. Browse our edit for ethical must-haves and exquisite gifts for everyone on your list.
We have talked with our friends and clients, we have checked our website statistics, and we have come up with 10 DALB items to choose from for your Christmas shopping list this year. Starting with the 10th of December, one item will be added to this list each day, so stay close to see the full edit.
1. The RECTANGLE DRESS - sparkly celebrations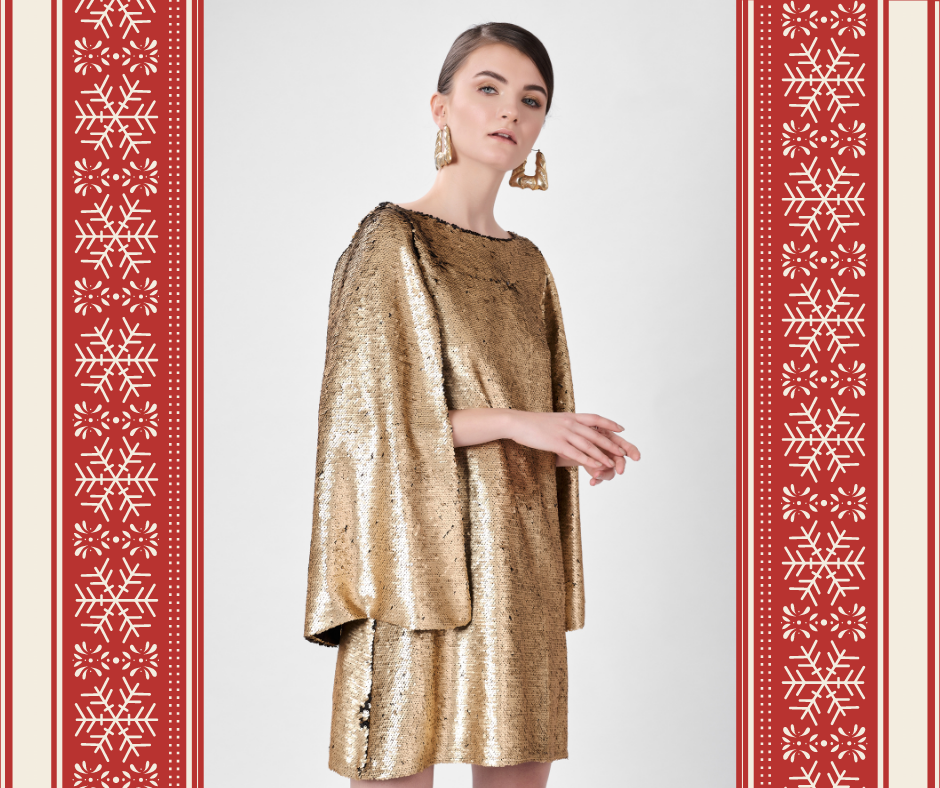 There's no better day than New Year's Eve to take out your most shiny outfit. This mini sequinned dress will adjust to your mood. It will go nicely with a golden pair of heels, your most beloved boots or that new pair of fluffy slippers. Everything is about you and your good mood!
2. The CELESTIAL DRESS – the surprise dress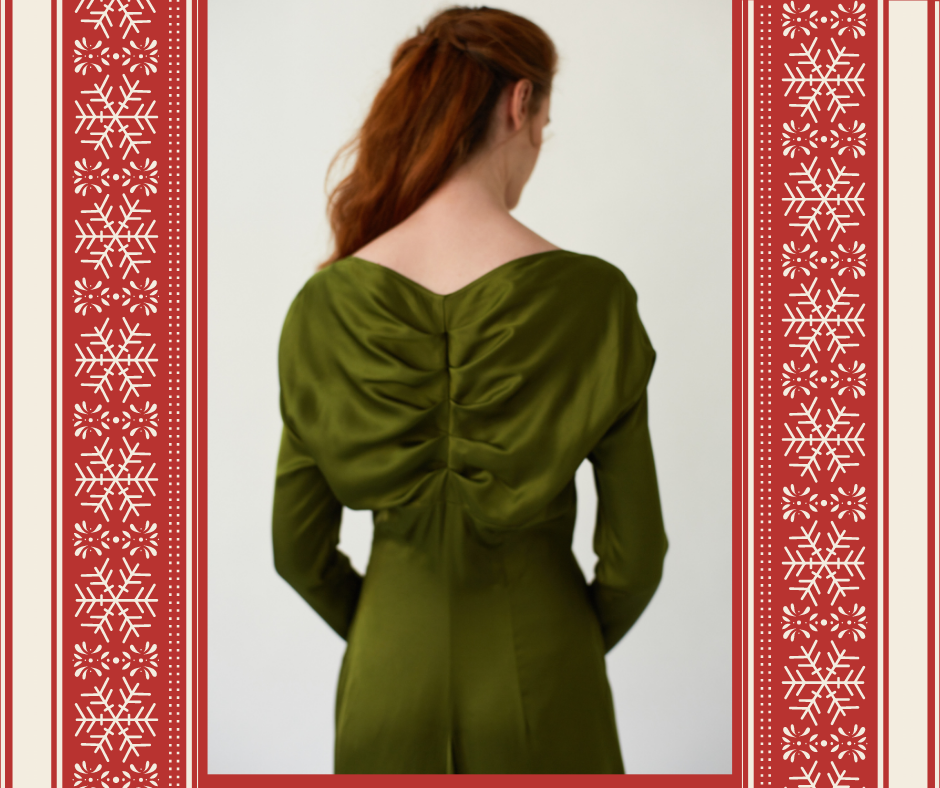 Holidays are full of surprises, so what about a surprize dress?! Christmas is a chance to depart from your typical taste and embrace colours and one-of-a kind cuts. DALB's designs often have an element of surprise - this Celestial midi dress turns to reveal an alluring and intricate back. Designed to suit a variety of occasions, the Celestial dress is beautifully draped on the back featuring a wing shape. If you've been eyeing up a festive dress, don't give up hope just yet, as this dress will make the perfect glam-but-comfortable gift for you or your stylish girlfriend.
3. The TRIANGLE DRESS - Eggnog & Cake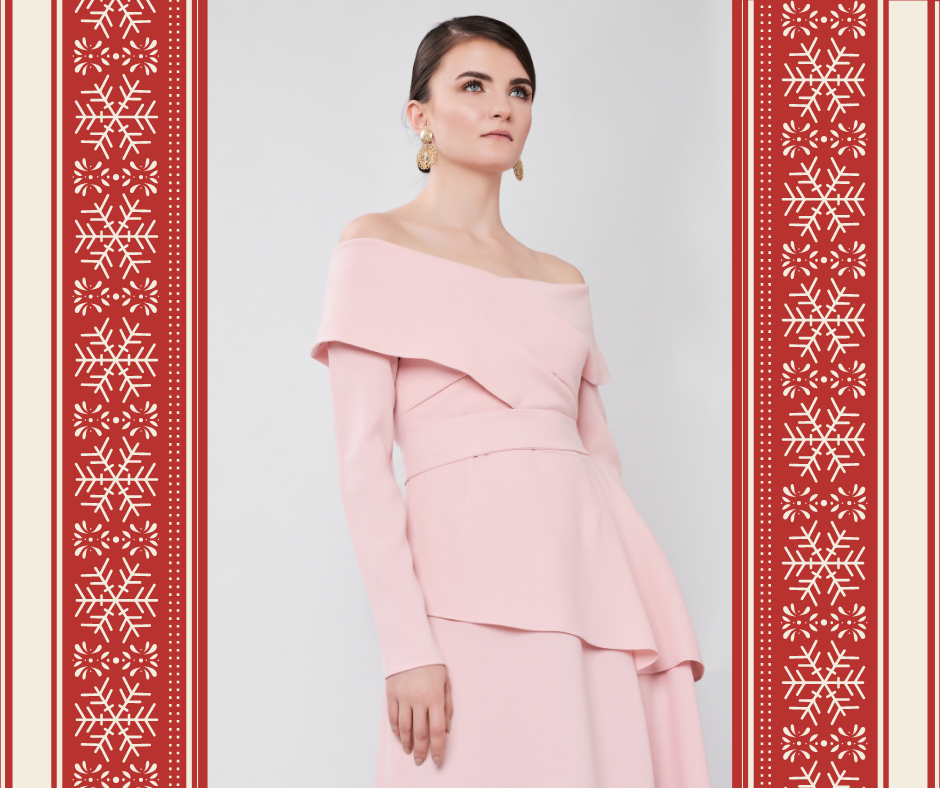 Hosting a small get together for your family? Here is the way to go outfit wise. This feminine piece will give you everything you need - a perfect look for the pictures, a flowy skirt for a dramatic dance and a comfortable layering to take you through the evening.
4. The FLUTTER DRESS – Hello, Santa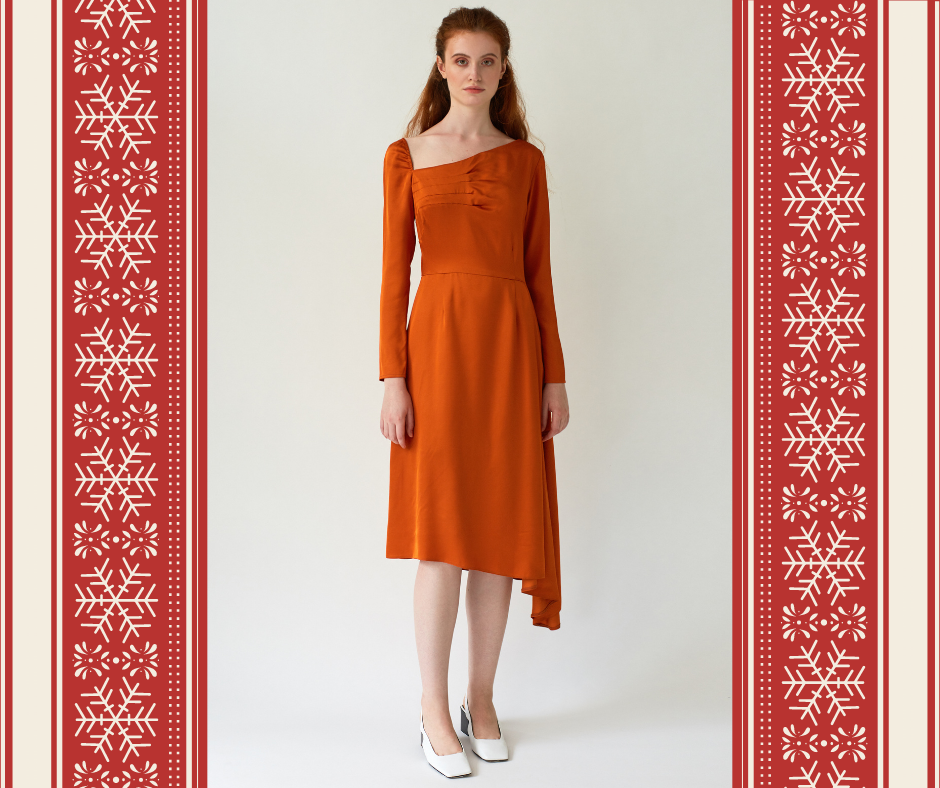 Opening presents is a very serious business, but you're going to treat it with a fresh coloured outfit and a childish smile. There are still some secrets to be unravelled and the Flutter dress from DALB is just the right partner for that.
5. The ROUND DRESS – the merry silk fashion statement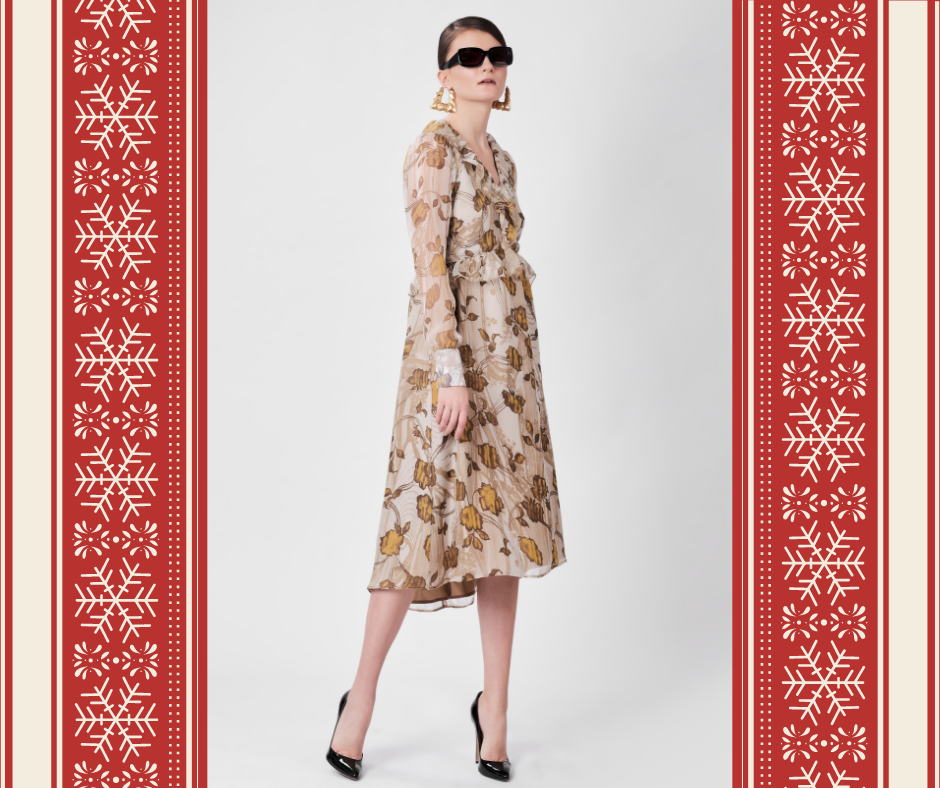 Silk should not miss any list, any time. Especially a Christmas gift list, where we are allowed even the most extravagant indulgencies. Though it's been said many times, many ways, you will definitely make a merry fashion statement with a silk dress. This is why we have the Round dress for you, faultlessly crafted from lustrous floral-printed silk. If red is not your colour, opt for the earthly tones of this dress, with just a hint of orange for the much-needed optimism boost this season.
6. The ZORI BLAZER – the red upgraded classic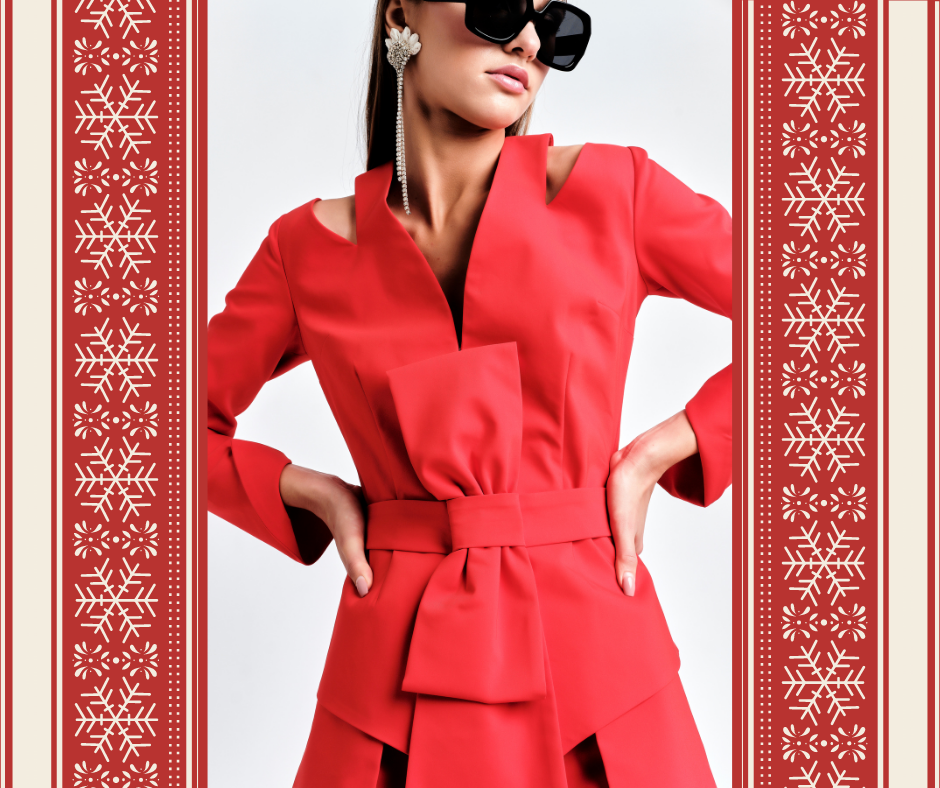 Christmas is all about colour and what better shade to represent the joyous holiday than red. A colour of life which can definitely add a beautiful layer in your fashion life! Add to the extravagance of red some intricate and ultrafeminine construction details, and you'll have a winner! A one-of-a-kind red piece to wear for the holidays, but not only.
7. SKYLINE PANTS – the supreme indulgence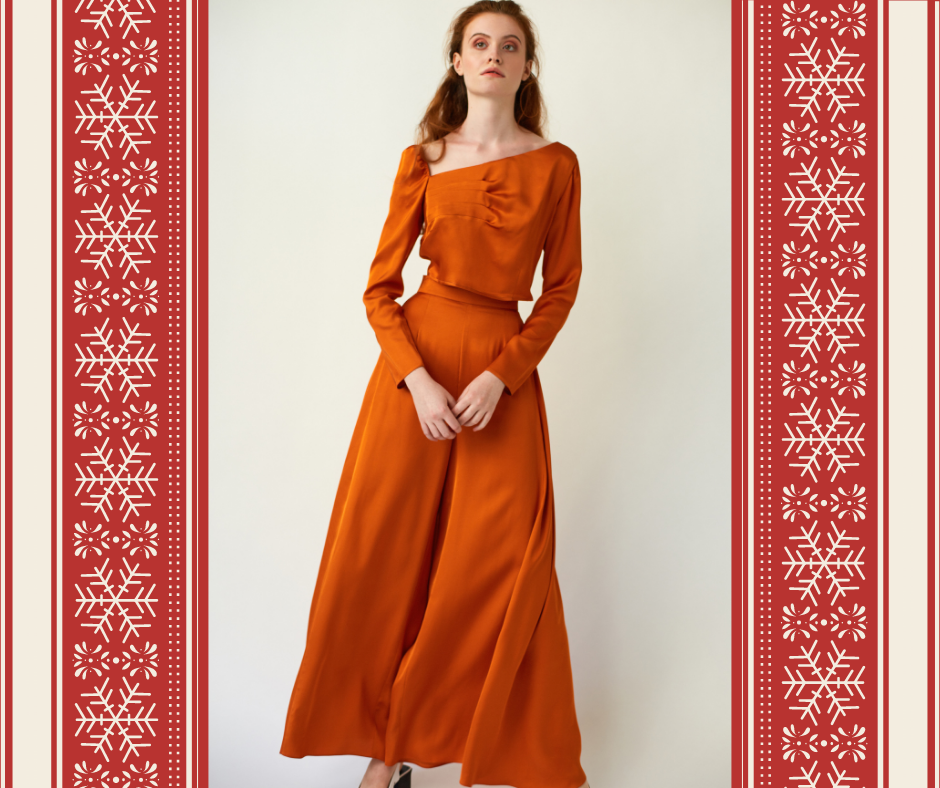 Exuding sophistication, DALB's Skyline pants may seem a bit extravagant for this pandemic winter, but once you feel the lavish texture of the fabric or its flowing movement, you would simply fall in love. They are supremely comfortable, as well as elegant, the go-to pants because they can be easily matched with any style or outfit, no matter the season. Designed to make a statement and blurring the line between evening and casual wear, they may be just the spoil we need to add some glitter to this year's holidays.
8. WINGS SHIRT – the memorable poplin shirt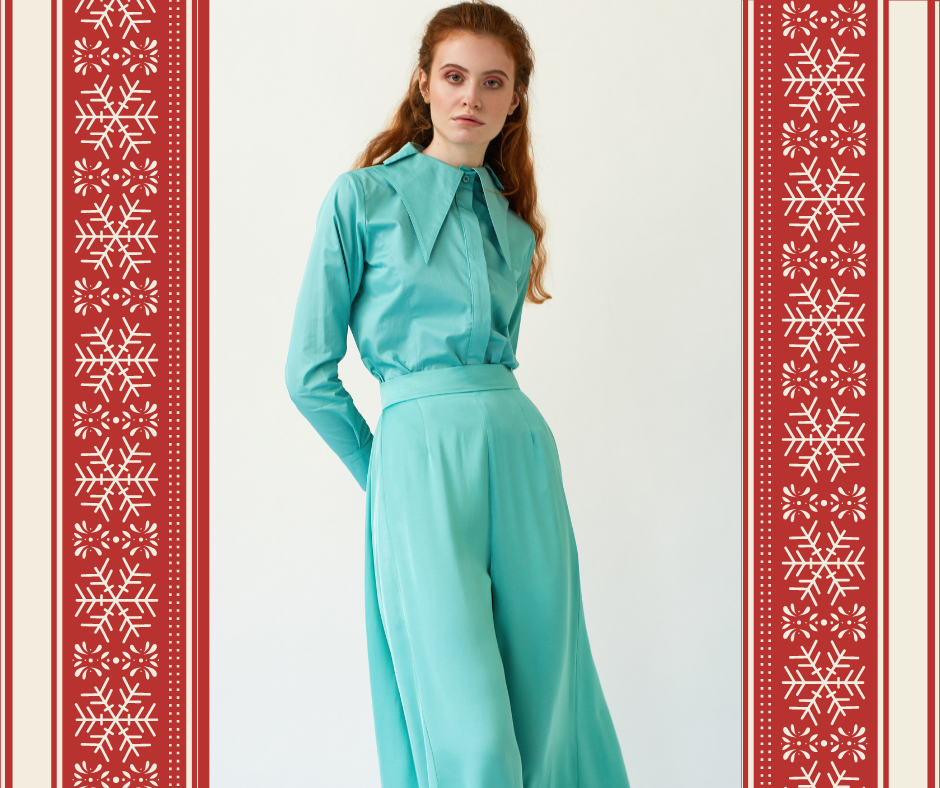 A Christmas present should be memorable and this is exactly the word we'd use to describe this shirt. So, we ask you, is there such a thing as a double collar? Yes, of course, and it's versatile & stylish. The back of this shirt is equally stunning, making an impression however you turn. The Wings shirt is definitely one of those wardrobe staples that would catch the eye of everyone around. It comes in two colours – white and mint, find your favourite and make a gift that stands out, either to you or to someone you love!
9. TRIANGLE PANTS – the infinitely wearable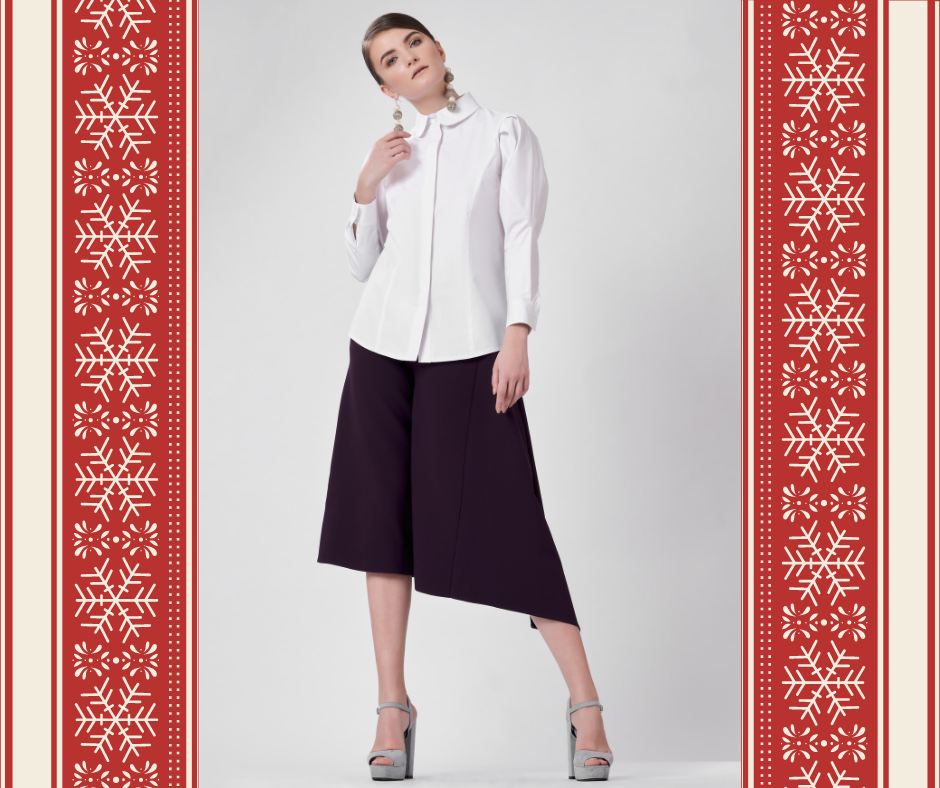 A delicate fusion between skirt and trousers, DALB's Triangle cropped pants are chic, fashion forward, distinctive and not to mention, comfortable. Simply put – they will tick all your needs for this pandemic winter, as they'll make you feel both comfortable and feminine. You can style them in so many ways and use them for so many occasions, from a trip to the supermarket to a cosy New Year's Eve get-together with your closest friends. They come in 2 different fabrics and colours, just find your preferred one and start enjoying them.
10. The FEARLESS White Poplin Shirt - the tried and true white shirt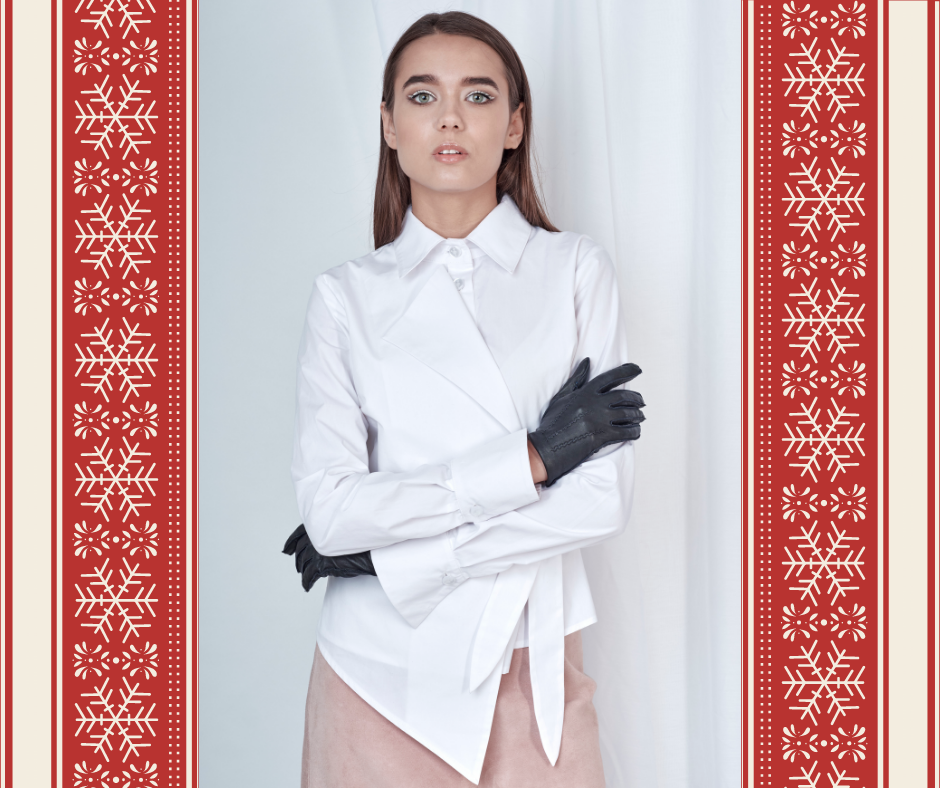 DALB has a wide selection of white shirts to choose from, as this is one of the signature styles of the brand. Our best selling shirt throughout 2020, the Fearless shirt is the closet staple you can always count on: a white button-down fit for any occasion. It's a piece that conveys subtle elegance, and a professional classic that says you mean business. But! This white shirt also has the perfect laid-back attitude for a holiday getaway; it never fails as cool party attire. The white shirt is the most versatile piece in your wardrobe and since one can never have too many, it also makes for the perfect holidays gift!